1.

Overview

Affiliate marketing is one of the oldest forms of marketing wherein you refer someone to any online product and when that person buys the product based on your recommendation, you receive a commission.

Statistics show, when utilized correctly, 10-15% of total sales revenue are affiliate driven. Now that you know, do you mind give it a try for your marketplace?

Guess what, WCFM Affiliate is here help you out. It provides all the options and tools required to launch your own affiliate program. Now encourage others to do the promotion and grow your business. Happy selling!
2.

Affiliate Add

You may add new affiliate user from WCFM Admin Dashboard -> Affiliate -> Add New
Affiliate user will receive a welcome email with all details on successful registration.
You may also edit this welcome email content from WCFM Admin Setting -> Affiliate
3.

Affiliate Manage

You may manage affiliate user's from affiliate manage section.

Go to WCFM Admin Dashboard -> Affiliate -> Click on "Manage Affiliate" button for any affiliate user
You may manage from here –
Affiliate user's commissions
Affiliate details
Affiliate code generator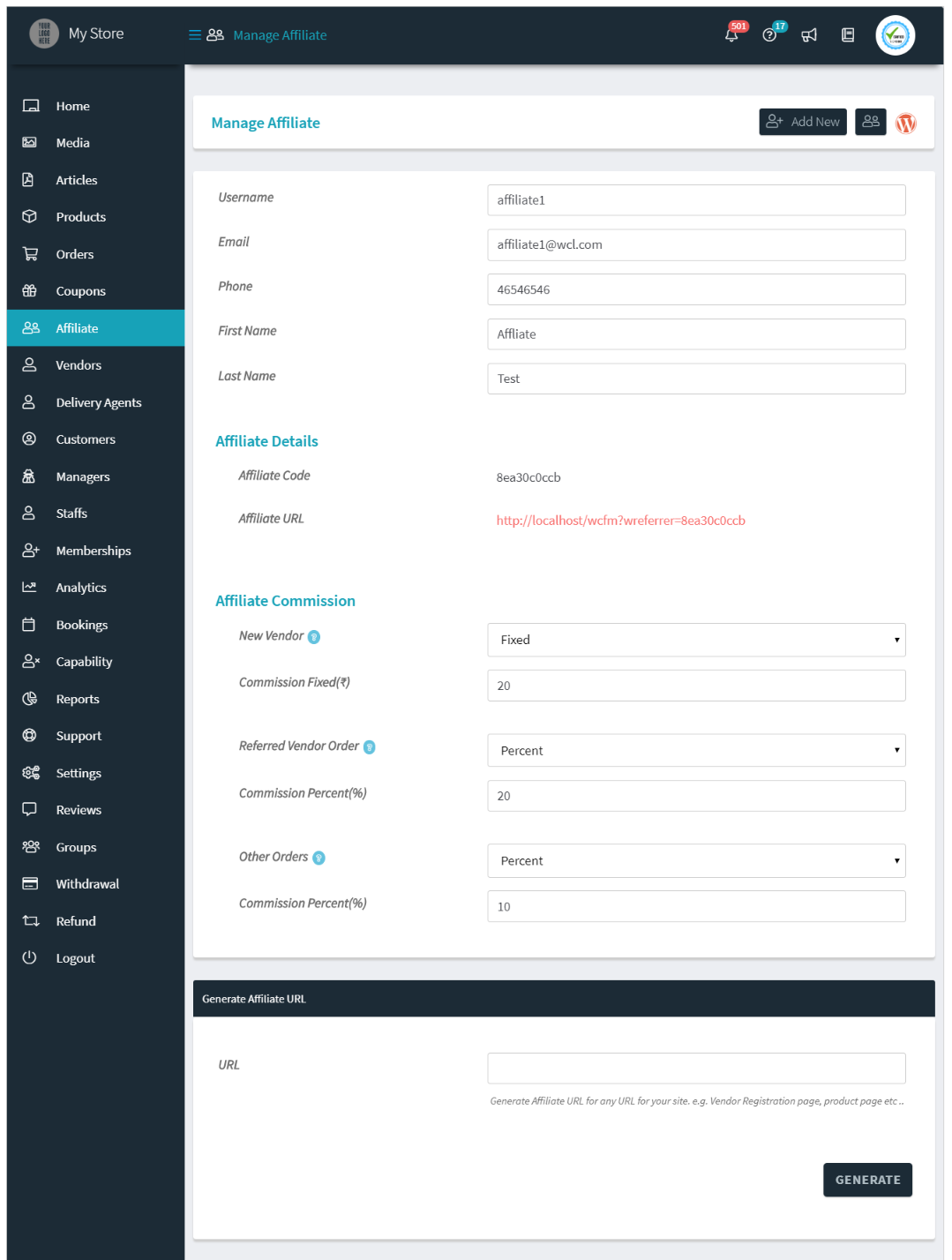 3.1.

Commission Setting

You may set different type commission option for affiliate user. Available commission options –
New Vendors – when a new vendor user register to the site using affiliate registration url
Referred Vendor Order – when any item sell in the system for a referred vendor by affiliate user
Other Orders – when any order place by following affiliate user url
3.2.

Details

You will have affiliate code and affiliate site url for the user under affiliate manage page.
3.3.

URL Generator

You may generate affiliate url for any site url for affiliate user using this tool.
4.

Affiliate Dashboard

You will see over all details for all affiliate users from WCFM Admin Dashboard -> Affiliate
You will see basic overview for all affiliates users –
Total commission earning
Total commission paid
No of vendors registered by following affiliate user's url
No of orders placed by following affiliate user's url
You may also navigate to affiliate manage and statistic page fro here.
5.

Affiliate Stats

You may check all affiliate commission details for an affiliate user from his stats page.

Go to WCFM Admin Dashboard -> Affiliate -> Click on "Affiliate Stat" button for any affiliate user.
You will see all affiliate commissions for the user.
You may also mark affiliate commissions as paid from here.
Affiliate commission payout is manual method, you only mark them "Paid" from here.
6.

Affiliate Login

Affiliate users also allowed to login to the site. Then will redirect to their affiliate dashboard after login.
Affiliate may check all their commission statistics from their affiliate dashboard.